Bohemian Wrapsody (sorry)
A firm favourite in our house, these wraps make a delicious, easy and healthy lunch or supper. If you're vegan, you can replace the eggs with silken tofu.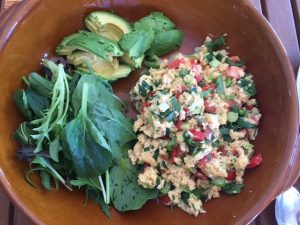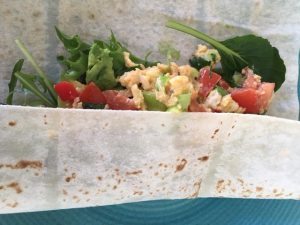 Serves 2
Ingredient
6 eggs
3 spring onions, thinly sliced
½ red pepper, roughly chopped
1 red chilli, finely chopped
1 large tomato, roughly chopped
Large handful coriander, roughly chopped
1 avocado, sliced
Large handful fresh spinach
Wraps of choice
Method

Lightly beat the eggs in a bowl. Add the spring onions, pepper, chilli, tomato and coriander, mix well.
Heat a little oil in a wok or large frying pan. Add the egg mixture and stir constantly until scrambled. Remove from the heat and trasfer to a bowl so they don't keep cooking and go dry.
Place some spinach and avocado on a wrap, add a good dollop of the egg mixture, wrap and eat!
RocknRollYogi 'Live Forever' Chai
Turmeric and green tea make you live forever, right? Well maybe not quite, but they have high levels of antioxidants, which nutritionists say mop up damaging free radicals in our bodies. Cloves do the same, and ginger is great for the digestion. This is my super-healthy version of Chai, incorporating all that good stuff and some more delicious flavours besides.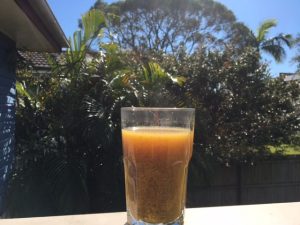 Makes 2 cups
2 decaff green tea bags
½ teaspoon ground turmeric
½ teaspoon ground ginger
½ teaspoon ground cinnamon
¼ teaspoon ground cloves
¼ teaspoon ground cardamom
2 teaspoons honey
Dash of coconut milk
Put everything except the coconut milk into a jug or teapot and add 500ml boiling water. Let steep for 5 minutes then remove the tea bags. Stir well, pour into cups and add the coconut milk (or other milk if coconut's not your thing). Drink. Live forever (ish).