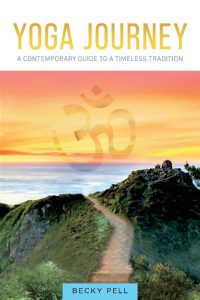 My book 'Yoga Journey – a Contemporary Guide to a Timeless Tradition' is available worldwide in both paperback and ebook.
I was inspired to write it after a conversation with a friend who had recently discovered yoga and was considering doing her teacher training to deepen her knowledge and experience. She asked me whether I could recommend any books that might help her to better understand yoga beyond the mat. My first response was 'yes, of course!' Thinking about it later that day, I realised that although there are lots of great books out there about different aspects of yoga, I didn't know of any that would quite fit the bill. I was looking for something that would bridge the gap between studio classes and a teacher training curriculum. Something that explored both the foundational yoga practices and philosophies as well as more advanced concepts, making them accessible and relevant to everyday modern life; something for anyone who wants a better understanding of yoga as a whole; something to get under the skin of what happens on your mat.  
I couldn't find what I was looking for, so I decided to write it myself.
On sale at all major online retailers such as Amazon
'Yoga Journey – a Contemporary Guide to a Timeless Tradition is a breath of fresh air. In this book you will find a clear and concise description of an enormous subject that can otherwise take years to grasp.
This easy-to-read book provides a valuable insight into yoga as a whole, both on and off the mat. It will show you how the ancient wisdom of yoga can inform, enrich and illuminate every aspect of your day to day life to navigate challenges with greater grace, ease and steadiness. You will learn not only effective ways to develop different aspects of your yoga practice, but also how and why they work.'
'This book will inform and inspire you. A gem solidly grounded in extensive study and supported by years of dedicated practice and teaching, Yoga Journey makes it easy to understand how we can all use the vast wealth of yoga's wisdom to make our own lives a better place to be.'
'Becky Pell's warm, candid nature and humour are apparent in her writing, and her clear uncomplicated perspective enables a deeper understanding with an extraordinary relevance to the lives we live today. With the mind of an engineer, the perspective of a yoga therapist, and the heart of a devoted yogi and meditator, Becky has created a travel guide for your own yoga journey. This is a book for everyone who suspects that there's a path to more inspired living and would like a little light shining on the road ahead.'
Yoga Journey is a book for yoga practitioners who are interested in gaining a greater understanding of the practice and philosophy beyond their current experience.
It encompasses both the basics and more advanced concepts, and makes complex ideas accessible and easy to understand in relation to the reader's everyday life through a light-hearted and conversational delivery style. A whole world of yoga is opened up to the reader, helping them to deepen their yoga understanding and experience and enrich their everyday life. 
Opening with an explanation of what yoga really is beyond the postures, the reader is led through basic yoga philosophy in a way which makes it easy to understand and highly relevant to their everyday life. The 'whys' and 'hows' of common techniques are explored, underpinned by scientific explanation of their benefits. This book is an enjoyable way to dive deeper into your yoga journey.
Yoga Journey is written for: 
– Yoga practitioners who would like to have a greater understanding of yoga as a whole. 
– People who are considering furthering their yoga journey with a teacher training. 
– Trainee yoga teachers. 
– Yoga teachers.
– Anyone who is interested in yoga and wants a better understanding of the whole story beyond the postures. 
'This is an accessible, practical gathering of profound wisdom. Thought provoking and applicable to modern living, it is compelling and readable, enormously informative and absolutely essential reading for anyone with an interest in yoga.'