For a meal to make a regular appearance on my menu, it has to meet a few demands. It has to be delicious; it has to be healthy; it has to be fairly quick and easy to knock up; and it has to be affordable. Here are a few of my favourite regulars that I hope you'll enjoy too.
Rock'n'Roll Yogi Muesli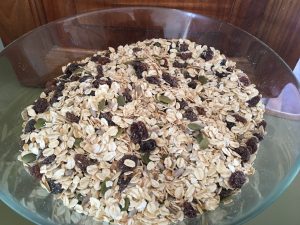 This is a fantastic alternative to shop-bought muesli. Not only is it healthier (no additives or sugar) and cheaper, it takes just a few minutes to make a big batch that will last you for a couple weeks of breakfasts, and you will have the best poos EVER.
You'll need a big bowl to mix it all up in. Then:
1kg rolled oats (nothing fancy, just the value ones from the supermarket)
250g sultanas (as above)
150g sunflower seeds
150g pumpkin seeds
150g chia seeds
150g flaxseeds (sometimes called linseeds)
Mix it all up really well. That's it! I store it in a pourable tupperware container, but you can also just cover the mixing bowl and keep it in that.
All these quantities are approximate – I don't actually weigh the seeds out, I just guess-timate based on the weight of the bag they came in. Obviously you can play around with your own additions, but don't leave the chia seeds out – they are the magic ingredient for the poo-factor! They swell up in liquid, so for optimum benefits I recommend drinking a big glass of water too. Interestingly, there was a program a while back, 'Trust Me I'm A Doctor', with the excellent GP Dr Michael Mosley, which investigated the effects of various pre and pro-biotic supplements and foods. Guess what came out on top? Yup, good old fashioned oats! Turns out the desirable bacteria in your gut – your microbiome – just love them. Healthy, easy, cheap, and yummy – what more reason do you need to make your very own muesli a part of your regular menu?
Rock'n'Roll Yogi Noodle Bowls
NB – this is just a picture of the Raw Pad Thai part. Basically I was so hungry I scoffed most it before I remembered to take a picture.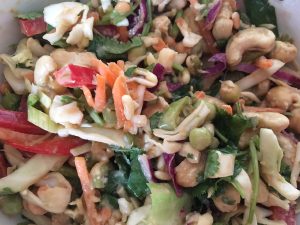 These make a frequent appearance for dinner at our place. The concept is a bowl comprising three layers – the noodles on the bottom, then the vegetables and dressing, and the protein on top. I adore South-East Asian flavours, so this one is a riff on Pad Thai.
Serves 2
Bottom layer – noodles of your choice, 1 serving per person.
I use the 'wok-ready' one which you you just put in a bowl and cover with boiling water for 5 minutes, poking them around a couple of times with a fork to loosen them up. I like Udon or flat-ribbon rice noodles, Chris likes the Singapore style – the beauty of the individual pouches is you can each have what you like. (If you prefer, you can replace noodles with stir-fried greens as in the top picture – simply pan-fry greens of your choice, such as kale, with a splosh of oil and a dash of water, and maybe some fresh chilli, until soft.)
Middle layer – Raw Pad Thai.
The salad
-1 bag of stir fry vegetables (shredded carrot, cabbage and beansprouts)
– Half a red pepper, cut into thin strips
– 1 bunch of coriander, roughly chopped (use most of the stems too)
– 2 generous handfuls of raw cashews
– 2 generous handfuls of sprouted mung beans (you can use raw peas or just leave these out if you can't find mung beans)
The dressing
– 150ml reduced fat coconut milk
– 1 generous tablespoon of crunchy peanut butter
– 1 red chilli, finely chopped
– Zest and juice of 1 lime (tip – stick it in the microwave for 20 seconds first to maximise the juiceage)
– 2 tablespoons of reduced salt soy sauce
– 1 large clove of garlic, grated or crushed
– 1 tablespoon of toasted sesame oil
Put all of the dressing ingredients in a jug and mix well with a fork. Put all of the salad ingredients in a large bowl and mix well, then pour the dressing over the top and mix well.
This can be whatever you like. I normally pan-fry some slices of tofu in sesame oil for me, and some prawns or Basa (white fish) for Chris.
Assemblage
Get the bowls which you will be eating from. In each, put the noodles, then the raw Pad Thai, then top with the protein. Pop a wedge of lime on top if you're feeling fancy. That's it – tuck in!