Oh Dhaling, You Shouldn't Have…
 …well actually you should, because this baby is nutritious, yummy and a perfect weeknight dinner. Like most of these recipes, it works brilliantly for a leftovers lunch too. Serves 4 hungry people.
Ingredients
 2 medium aubergines, cut into 1-2 inch chunks
1 medium butternut squash, cut into 1-2 inch chunks
200g dried red lentils
2  x 400g tins chickpeas, drained
400ml coconut milk
250ml water
1 onion, chopped
1 clove of garlic, finely chopped
1 tsp ground cumin
1 tsp turmeric
½ tsp chilli powder
½ tsp paprika
Fresh coriander to serve
Heat-stable oil for cooking (avocado, macadamia, light olive)
Method
 Heat the oven to 180 C. Put a good splosh of oil on a baking tray or roasting tin and put it in the oven for 5 minutes or so till it's nice and hot (a drop of water should spit and sizzle). Put the pumpkin and aubergine on the tray, toss around to give them a light coating of oil, then roast for about half an hour until soft.
Whilst that's happening make the dhal. Put the lentils, coconut milk, water and spices in a saucepan. Cover, bring to a gentle simmer and let it bubble away for 15 minutes, stirring every few minutes or so until the liquid is absorbed and the lentils are soft. Add more water if necessary. In a frying pan, gently fry the onions and garlic in a little oil for about 5 minutes until they start to colour, then add them to the dhal along with the chickpeas. Stir well and continue to cook for another few minutes until the chickpeas are fully heated through then remove from the heat.
Divide the dhal between 4 bowls. Scatter the pumpkin and aubergine over the top, then sprinkle chopped coriander as a garnish. Great served with a steamed green vegetable of your choice.
Tom YUM Soup
If you've never tried making Tom Yum but enjoyed it in Thai restaurants, definitely give this a go and prepare to amaze yourself! You can make it with tofu and vegetable stock for a vegetarian soup, or prawns and chicken stock if you prefer. Serves 2.
Ingredients
 300g soft tofu OR 12 large raw, peeled prawns
200g enoki or oyster mushrooms
2 small red chillies
1 stalk lemongrass
1 litre homemade vegetable or chicken stock (don't be tempted to use a cube, the stock is really important)
6 kaffir lime leaves
Juice of 1 lime
1 tsp grated fresh galangal – if galangal is not available, use fresh ginger
Fish sauce, or soy sauce if vegetarian
Coriander to serve
Method
 Cut the mushrooms in half, or quarter if you have very large oyster ones. Finely chop the chillies – keep the seeds in if you like it spicy, or discard if you prefer a milder soup. Keep the lemongrass whole but give it a good bash with a rolling pin or similar to release the aroma.
Put the stock into a saucepan and bring to the boil. Add all the other ingredients  except fish/soy sauce and coriander and simmer very gently for 6-8 minutes. Now try it, and add a few dashes of fish/soy sauce to taste – this gives it saltiness. Remove the lemongrass stalk, divide into 2 bowls and garnish with coriander.
Chickpea and Root Vegetable Casserole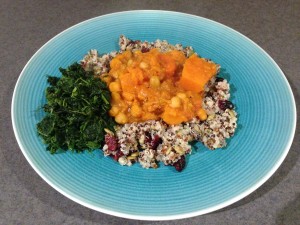 Simple to make, freezes beautifully and makes a great lunchbox heater-upper, this is delicious, health-giving, inexpensive and comforting too. You can't really ask for more than that… Serves 6
Ingredients
2 tins chickpeas, drained
1 tin chopped tomatoes
250ml vegetable stock
1 medium onion, coarsely chopped
2 cloves of garlic, finely chopped
500g sweet potato, cut into large chunks
500g pumpkin or butternut squash, cut into large chunks
3 medium carrots, each cut into 5-6 pieces
½ tsp ground cumin
½ tsp ground paprika
½ tsp chilli powder
½ tsp turmeric
A few dashes of worcester sauce
Oil for cooking – use one with a high heat tolerance such as avocado or light olive
Ground black pepper and salt to taste
Serve with red and white quinoa and steamed spinach – frozen spinach works really well, plus it's more budget-friendly than fresh. If you're feeling fancy-pants you can add some dried cranberries and toasted pumpkin seeds to the quinoa.
Method
In a large heavy based saucepan with a lid, sweat the onions and garlic in about a tablespoon of oil until translucent. Add all the other ingredients except the chickpeas, put the lid on and bring it up to a gentle simmer. Let it all bubble away for about half an hour. Whilst that's happening, cook your quinoa according to the instructions. After half an hour add the chickpeas to the casserole and bubble away uncovered for another 10 minutes, then taste and season. If it starts to look like it's getting too dry at any point, just add a bit more stock or some water – we want a bit of a gravy going on. Serve with the quinoa and spinach.