These are my current favourite breakfasts – super healthy, delicious and filling, and they're all portable too –  I like to take them with me to rehearsals. All these quantities serve 1.
Hot blueberry smoothie
Get in there with the Omega 3s!
 Ingredients
300 ml unsweetened almond milk
Generous handful of blueberries (frozen is fine)
2 scoops of your favourite protein powder, either unflavoured or vanilla
1 tablespoon cold-pressed flaxseed oil
1 tablespoon chia seeds
Method
Warm the almond milk and blueberries in a pan. Remove from the heat, add the rest of the ingredients and blend. Done! You can of course make this cold if you prefer. If you're not drinking it immediately, increase the amount of liquid as the chia seeds will swell up and make it very thick.
Chilli egg and kale mess
Hey, appearance isn't everything!
Ingredients
3 eggs, beaten
2 generous handfuls of chopped kale
Pinch of dried chilli flakes
1 teaspoon of coconut oil
Method
Heat the oil in a non-stick frying pan, add the kale and chilli and keep it moving. After about a minute, add a couple of splashes of water to the pan. Once the water has disappeared, pour the eggs over the kale and keep stirring it all around until the eggs have scrambled, then serve. This works well as a takeaway if you have a microwave at work – just pot it up and nuke it for 30 secs when you're ready to eat. I like to add Cholula Hot Sauce to serve for extra oomph!
Coconut chia pudding
Ah, creamy squidgy goodness!
Ingredients
2 tablespoons white chia seeds
100ml coconut milk (reduced fat if you prefer)
Plain Greek yoghurt (again, whichever fat % you like)
Handful of sunflower or pumpkin seeds, or a mix
Method
Soak the chia seeds in the coconut milk. Anything upwards of 20 minutes is fine – I like to make enough for 3 days and keep it in the fridge so it's ready to grab. Once they've plumped up and made a pudding texture, you can eat it just like that….. or I like it with a good dollop of yoghurt stirred in and sunflower or pumpkin seeds sprinkled over the top, served with some berries or watermelon. Yum!
(Look Great in Your) Knickers-bocker Glory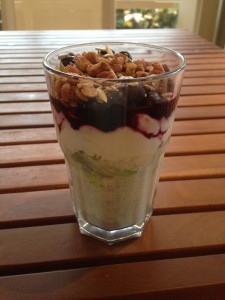 This is nutrient dense and SO filling – it's great for mornings when you're super-hungry or if you might not have much time for lunch. I'm a late-breakfaster generally, so I often have it as brunch.
 Ingredients 
 2 tablespoons white chia seeds
100ml your preferred milk – I like coconut or almond
1 tablespoon your preferred plain or vanilla protein powder (try to find one with simply the protein source and vanilla extract, no additional nasties, from a health food shop)
1 tablespoon flaxseed oil
Half an avocado, diced
1 heaped tablespoon shredded or dessicated coconut
3 generous tablespoons plain or vanilla Greek yoghurt
Handful frozen blueberries,
Scattering of your favourite chopped nuts and seeds for topping – I like pecans and pumpkin seeds
Method
 Mix the chia seeds and milk together in a glass of your choice – I use a 12oz tumbler – and leave to stand for a few minutes whilst the chia plumps up. In a separate dish, microwave the bluberries on full power for one minute so they become like a hot sauce. Then add the protein and the oil to the chia mixture and stir well. Now add the other ingredients in layers, so the avocado is next, followed by the coconut, then the yoghurt, then the warm blueberries, and finally the nuts and seeds. Get stuck in!