I'm in Bali doing further yoga study at the moment (life doesn't suck it's fair to say!) So inspired by the wonderful food here, I thought I'd share some of my favourite Asian recipes with you.
Asian salad
The flavours in this are alive, zingy and refreshing… I can eat this stuff by the bowlful just by itself!
Ingredients – Serves 4 as a side dish
Salad:
1/2 Continental or 1 Lebanese cucumber
1/2 red pepper
2 medium carrots, grated
Big handful of beansprouts
Big handful of shredded Cos lettuce
Big handful of unsalted roasted peanuts
Big handful chopped coriander
Dressing:
2 tablespoons olive oil
1 tablespoon rice or red wine vinegar
1 tsp fish or soy sauce
1 tsp brown sugar (or subsitute agave nectar if preferred)
Juice of 1 lime
1 stick lemongrass
Method
First make the dressing. Bash the lemongrass with a rolling pin to release the aroma and chop into 5 or 6 chunks, then put them in a jam jar. Add the oil, vinegar, fish/soy sauce, sugar and lime juice, put the lid on and give it a really good shake. Let it sit whilst you make the salad.
Cut the cucumber in half lengthways and scoop out the seeds with a teaspoon. Then cut the cucumber into matchsticks 2-3 inches long. Cut the red pepper into thin strips 2-3 inches long, and toss the cucumber, pepper, carrot, beansprouts, lettuce, peanuts and coriander together in a large bowl. Strain the dressing through a sieve over the salad, mix well and enjoy!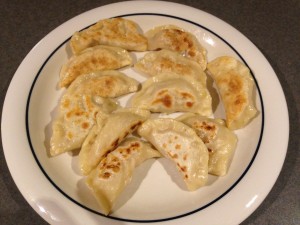 Dim Sum
This is my newest discovery – seriously, who knew making your own dim sum was so damned easy! Really good fun too…. have a go of this and prepare to spend the rest of the evening marvelling at your own brilliance. Remind your lucky dinner companions of your brilliance too – and if they give you any nonsense you just send them to me.
Ingredients – makes 20
6 heaped tablespoons plain flour
100 ml water
150g medium-firm tofu or 10 raw king prawns, finely chopped
1 heaped tablespoon water chestnuts, finely chopped
1 heaped tablespoon Chinese or Savoy cabbage, finely chopped
½ tsp freshly grated ginger
1 tablespoon soy sauce
Toasted sesame oil for frying
Method
Mix all the ingredients except the flour, water and oil together in a bowl. Set aside.
Now mix the flour and water together in a bowl to make a dough. Put the dough onto a floured board and keep kneading for a few minutes until you have a nice elastic dough that isn't sticking to your hands – if it's sticky add a little more flour; if crumbly add water. Now roll it out on a well-floured surface – get it as thin as you can, this quantity should roll out to cover an area at least the size of two sheets of A4. Now cut out circles using a cutter around 3 inches in diameter – I just use a glass tumbler – and keep re-rolling the pastry out to get as many circles as you can. Then put about a teaspoon of the filling into the centre of each circle, and bring up the sides, pinching them together to make little half-moon shapes. Pinch them together with wet fingers to make them stick better. Now place them into the basket of a steamer for about 4 minutes – the pastry should go slightly yellowish when they're ready to take out. If you're using a metal steamer, lightly oil it first so they don't stick, and don't be tempted to cram them in, they need a bit of space – I do them in 3 batches. Now heat a splosh of sesame oil in a non-stick frying pan, get it nice and hot so that a drop of water spits and sizzles, and transfer your steamed parcels into the pan for a minute or two each side, until golden-brown, then place them on some kitchen towel to soak up any excess oil. Dip into a little soy or chilli sauce and eat. Now tell me you're not a genius!
Vietnamese Rolls with Cheeky Satay Dipping Sauce
No cooking involved, just some chopping and some fast finger-work. They are a bit fiddly at first so don't panic if the first few are a mess, just experiment with your rolling method and you'll get the hang of it. The satay sauce is cheeky because it's a quick bodge of just two ingredients, but I won't tell anyone if you don't.
Ingredients
I haven't given quantities for the filling because the combo is up to you – you can use whatever fillings you fancy, get inventive!
1 packet Vietnamese rice-paper circles
Large bowl of warm water and a tea-towel (don't worry, you're not going to eat that bit)
Cucumber
Beansprouts
Red pepper
Carrot
Cooked medium-firm tofu, crumbled
50ml coconut milk
2 tablespoons smooth peanut butter
Method
Cut the cucumber, red pepper and carrot into skinny matchsticks. Lay the tea-towel out on your work-surface, dip a rice-paper circle into the water and then lay it on the towel. Put a few pieces each of cucumber, beansprouts, red pepper, carrot and tofu about 1/3 of the way across on the paper, and by this time the paper should have softened to a cling-film-like texture. Fold the nearest side edge over the filling, then roll it up into a sausage, folding the top and bottom in as you go. You can leave it in one piece, or cut it in half to show the colourful fillings. Repeat to make as many as you like, and then for the sauce, just mix the peanut butter and coconut milk together in a small bowl. Told you it was cheeky!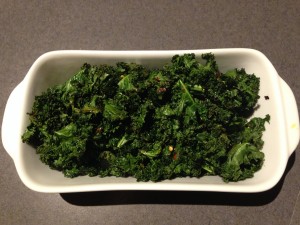 Kale Crisps
Ok so not strictly Asian and I'm late to the party on this one but I'm somewhat obsessed with these crispy little love-bombs at the moment!
Ingredients
 A couple of big handuls of kale
1 tsp dried chilli flakes
Salt and ground black pepper
Heat-stable oil (avocado, light olive, macadamia)
Method
Heat the oven to 200 C. Put a good splosh of oil on a baking tray or roasting tin and put it in the oven for 5 minutes or so till it's nice and hot (a drop of water should spit and sizzle). Put the kale on the tray and toss it around a bit to get the oil on it, and sprinkle the chilli and a good old grinding of pepper over it. Put it in the oven and keep checking it every couple of minutes and giving it a shuffle around – this cooks FAST and you don't want any burning or it gets bitter. Just crispy is what we're aiming for. It'll be done in about 5-6 minutes, then add salt to taste and serve instead of less healthy munchies like crisps. When you've scoffed the lot, go and check your teeth before you give anyone a big cheesy grin. You're welcome.