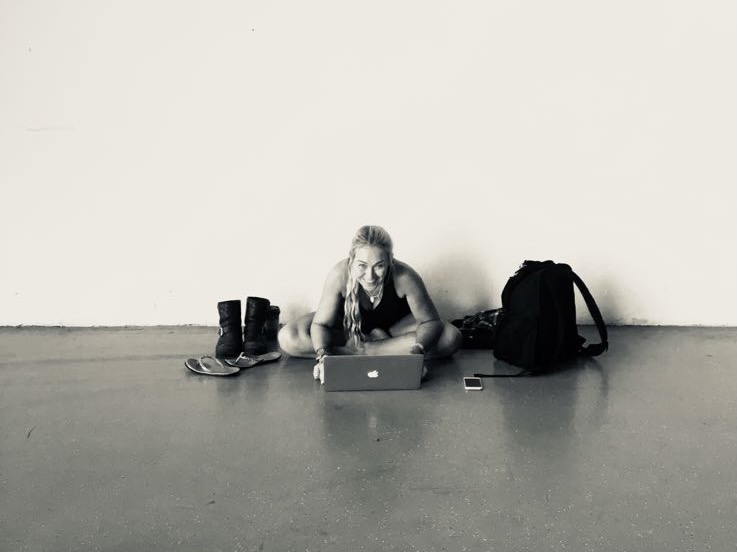 Private Online Consultations
Would you like some help to overcome obstacles, increase your wellbeing, and reconnect with yourself? Maybe you've reached midlife and feel that you've lost contact with who really are; maybe you're a little older and feel a longing to rediscover a self who you never gave expression to; maybe you're in your late twenties and struggling to figure out the kind of life you want. Or perhaps there's a specific problem that's bothering you in some aspect of your life – physical, mental, emotional, or spiritual – that you could use a hand with.
I can help you.
My own unconventional life informs the work I do to help clients make positive changes.
From the age of twelve when I saw my first live gig, I wanted to be a sound engineer travelling the world with bands. Despite scepticism from a heavily male-dominated music business at a time when there were virtually no female engineers, in my twenties I set about making my own dreams come true. I've now spent over twenty-five years in the live music business, mixing sound for many major artists on arena and stadium tours.
In my early thirties I discovered yoga and loved how it made me feel. I practised every day for years before training first as a teacher and then as a yoga therapist, and eventually co-founding Find Your Balance Yoga Retreats and publishing a book, 'Yoga Journey – a Contemporary Guide to a Timeless Tradition'. Along the way I also qualified as a holistic coach and counsellor.
I bring all of this experience together, along with the lived experience of having overcome significant personal challenges in my own life, to offer carefully tailored private online consultations.
Would you like to work with me to reconnect with yourself, overcome obstacles, and create a life you love? Let's get together and see what we can do!
What to Expect: I draw on the different modalities of yoga therapy, holistic counselling, and coaching to help you to move towards your aims. A large part of the session will be us talking, and although we may decide to incorporate some simple movement, it's important to realise that yoga therapy is not like a yoga class – it's much more about using the framework of yoga's wisdom to address all aspects of your human experience. There may also be some written self-enquiry work as well as breath practices, meditation or relaxation. Wear comfortable clothes that you can move in, and have a pen and notebook handy, so that you're equipped for wherever our session goes. You can expect to get actionable strategies to help you in your day-to-day life, and you'll receive a follow-up email with notes from our session.
Prices:
60 minute Zoom session – £60
4 x 60 minute Zoom sessions – £220
You are welcome to have a single session, although most clients find that the journey of multiple sessions gives the most effective outcome. You have the option to pay in advance for session 1 and then decide to use the '4-pack' offer, in which case you simply pay the balance before session 2. We can be totally flexible with timings – it doesn't have to be 'same time each week' – and '4-packs' must be used within four months.
'Our sessions are one of the best things that I have done!'
'The speed of improvement I saw with Becky's therapy has motivated me to work at improving my practice. I enjoyed becoming aware that regular practice could have such a big effect. Building on improvements week to week was very satisfying, and motivating. The discussions I had with Becky were also very therapeutic in their own way, getting me to think about and become aware of things, including simple things such as energy levels, sleeping, how I was feeling and reacting to things etc. Just having the awareness has been helpful.'
'I feel very grateful to be able to work with you, you have very strong intuition and know exactly where I am.'
'It feels so extremely good to be able to talk to someone.'
'It was so lovely to chat to you this morning - I always come away from our conversations feeling really happy and uplifted and very inspired to continue.'
'That was such a great session we had! I can't tell you how pleased I am to be doing this work... I've had such a productive day.'
'You are a superstar! Thank you very much.... I am rather impressed with how motivated I am with this work!'
'Thank you for showing me that there can be a beautiful balance. You have inspired me to not only get off of my ass and make something of myself but also to get back into yoga & meditation and make it part of my life as it should be.'
My qualifications: 
Clinically trained Yoga Therapist, registered with Yoga Australia and accredited by the British Council for Yoga Therapy.
Yoga Alliance YTT200, YTT500, Santosha Yoga Institute.
Holistic coach and counsellor, Inner Voyage Holistic Human Development.
Meditation teacher, Inner Voyage Holistic Human Development.