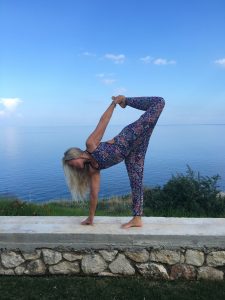 My story so far
Since falling in love with music at an early age, I wanted to be a live sound engineer. In my 20s I made that a reality, and I've been touring worldwide as a professional sound engineer with high-profile bands since 1995. Along the way I also fell in love with yoga, and after several years of practice I travelled to Bali to train as a teacher (YTT500), so that I could share yoga's life-changing magic with others. Since then I have also qualified as an holistic life-coach, and after 2 years of training, graduated Yogacampus in London as a yoga therapist.
When I'm on the road with bands, I teach yoga and meditation to the artists and musicians I tour with. Between tours I lead workshops and retreats, and I see private clients for yoga therapy and holistic life-coaching sessions. I am a yoga ambassador for UK women's active clothing brand Sweaty Betty, and I am a published author – I write for Yoga International, Om magazine, Adventureyogi.com, The Stage and Soundgirls.org.
Originally from England, I am now based in Brisbane, Australia. The unconventional and nomadic nature of my life means that I've learnt to get creative with my yoga practice, and it has made every aspect of my life easier. My passion is helping you to develop a 'yoga toolkit', to navigate your life's journey with comfort and ease!
I teach 'juicy' Vinyasa – my classes are rich with music, yoga philosophy, intention, symbolism and inspiration. I am also passionate about teaching restorative yoga and meditation. My music clients include Anastacia, Take That, Westlife, Kylie Minogue, A-ha, Muse and Natalie Imbruglia, and each year I take charge of sound on the Pyramid Stage at the world's largest festival, Glastonbury.
Stay inspired and sign up for my monthly email below!
Yoga Therapy, Holistic Life-Coaching, Workshops and Retreats
When I'm not travelling with concerts, I offer yoga therapy and holistic life-coaching as well as workshops and retreats. Yoga therapy is an active complementary therapy. Rather than being something which is done 'to' you, yoga therapy helps you to establish a yoga 'toolkit' to address your issues, which you continue to work with at home on a regular basis. I typically work one-to-one with a client over 4 – 8 sessions.
Holistic life-coaching is like having a sat-nav for your life! If you're ready to make some changes but aren't sure of your direction; or if you know where you want to go but could use some assistance figuring out how to get there, I can help. These sessions can be conducted in person or via Skype.
If you would like to book a yoga therapy or holistic life-coaching session, or discuss me leading a workshop or retreat for you, please use the form to contact me. I am currently on tour, but am taking bookings for August and beyond. I am based in Brisbane, Australia but can travel for workshops and retreats. I look forward to hearing from you!
Latest Yoga Posts
I've written before about being a reluctant vegetarian; that is, I like the ethos of not harming living creatures just marginally more than I like how a lot