Koh Samui Yoga Retreat
11th – 18th November 2017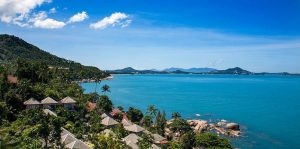 Join Becky Pell (Yoga Therapist BCYT) and Sarah Vaughan (E-RYT500) at Vikasa yoga rereat on the stunning Thai island of Koh Samui for an unforgettable yoga getaway! Develop and deepen your Astanga practice each morning supported by both teachers, then balance that dynamic energy with evening restorative and meditation sessions to nurture the body, mind and spirit.
The day begins with optional dawn meditation as the sun rises over the ocean, followed by Astanga practice in our very own open-sided wooden shala. Nourish yourself with a delicious healthy brunch buffet in the balcony cafe as you gaze out over the exquisite water, and spend your days relaxing on the white sands of Silver Beach or by the infinity pool; having incredible Thai massages in the ocean breeze; or exploring this gem of an island with its temples, waterfalls and lush jungle. As the sun sets, return to our shala for a slower, therapeutic yoga practice, followed by a deeply restorative yoga nidra… before enjoying a nutritious dinner of beautiful fresh Thai food and juices. Then the evening is yours – you might find new treasures at a night market, indulge in an enticing cocktail, or simply float to bed to fall into a tranquil sleep to the sound of those ocean waves!
General Schedule
11th November – Arrival day
We recommend arriving at Vikasa before 3pm to give yourself time to settle in and explore the beautiful retreat space.
4.30pm – We meet in our Shala for a welcome circle to celebrate the beginning of our retreat! Then we'll stretch out from the journey with a special 'post-flight' practice, aimed at alleviating heavy legs and reversing any in-flight tightness. We'll conclude with candle-gazing to stimulate the production of melatonin, to help ease jet-lag.
From 6.30pm – Head up to Vikasa Life Cafe for a delicious dinner, served until 8.30pm.
12th – 17th November – Full days (6 days)
6am – Sunrise meditation
6.30 – 8.30 am  Mysore Astanga
09.30 am – Brunch
Free time until….
4.30pm – 6.30pm – A blend of gentle Hatha, Yin and Restorative yoga, concluding with guided relaxation or Yoga Nidra
From 6.30pm – Dinner
18th November – Departure day
6am – Sunrise meditation
6.30 – 8.30 am – Mysore Astanga and closing circle
09.30 am – Brunch
11am – Check out and depart
Beginners and advanced students alike are welcome as we will be a small group (max 20 spaces available) with two experienced teachers – Sarah Vaughan (Senior Astanga teacher) and Becky Pell (500 hr yoga teacher and yoga therapist).
Prices from $855 (US)
Includes room, brunch, dinner, all classes. Flights and transfers not included.
Please contact me if you're interested!