Yoga Therapy Clinic
TEMPORARILY UNAVAILABLE – I AM CURRENTLY ON TOUR UNTIL OCTOBER 2018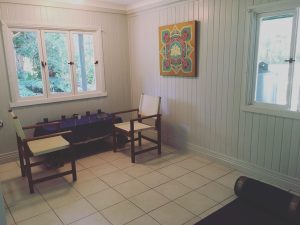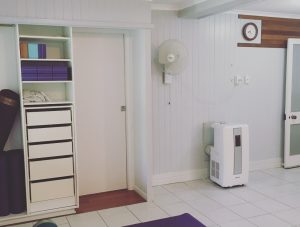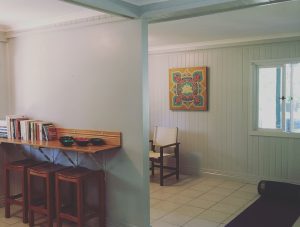 The Yoga Therapy Clinic in the Sunshine Coast hinterland, near Glasshouse Mountains, is open for bookings.
So what IS yoga therapy?
Yoga therapy is an active complementary therapy, meaning that rather than being done TO you, like massage, you take an active role in your own care by doing the yoga practice. I typically work with you for a minimum of four sessions to help you establish a 'yoga toolkit' to address whatever issues you would like help with. Those might be physical, mental, emotional, energy-related, or to do with a sense of connection to yourself and a bigger picture. .
You are asked to fill out a health information form in advance; sessions are 90 minutes long and run as follows.
– Consultation. We discuss, in greater depth, the information that you have given me on your form, and how you are that day.
– Standing, moving, and breathing overview. I ask to see how you stand, move in a couple of simple postures, and breathe.
– Restorative. I guide you into a deep 15-20 minute relaxation.
– The practice. I teach you a simple 4 or 5 element bespoke home-practice, tailored exactly to your needs, goals, and time availability, and give you a written memory-aid and stick-figures sheet to practise with at home.
No yoga experience is necessary, and yoga therapy is not about turning people into yogis. It's about using the vast array of techniques that yoga offers, to give you the tools to feel better, every day.
I am a fully trained and qualified Yoga Therapist accredited by the British Council for Yoga Therapy and registered with Yoga Australia

Pricing
1  x 90 minute session = $120
'4-pack': 4 x 90 minute sessions = $450
'6-pack': 6 x 90 minute sessions = $650
How to book
You can email me using this contact form, or call me on 0403 474352.
Terms and conditions
Payment is by bank transfer or cash.
$50 deposit by bank transfer is required to secure your initial booking and will be deducted from your payment. Clinic address will be given on receipt of deposit.
Please be advised there is a 48 hour cancellation policy for all Yoga Therapy Clinic appointments.